Flow XO for Chat is our feature-rich chatbot platform that allows anyone to create code-free online chatbots (bots) quickly and easily.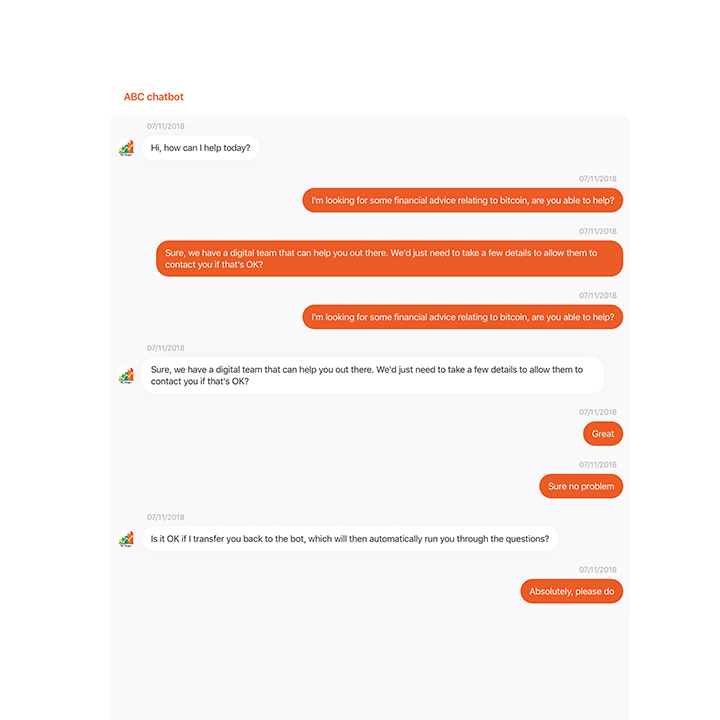 Chatbots are computer-generated applications that allow visitors to your website to communicate with your business more directly. They enable virtual conversations that should feel like visitors are talking to something other than a computer.
Chatbots are a fantastic way to open communication with a customer when they visit your website. They provide a simple and effective way for your customers to ask questions or request information, which is much faster and more engaging than searching for information across your website or filling in a traditional form.
What can I do with a chatbot?
The possibilities available with chatbots are almost endless, with Flow XO customers developing chatbots that are doing an amazing range of things.
Some typical examples include:


Just for fun! Engage customers with light-hearted entertainment
Gather information and pre-filter leads
Switch between chatbot and live chat
Accept payments
Automate customer support
Sign-up today for free and start creating a chatbot for your business
Provide a virtual welcome mat to your business
Chatbots are a great way to greet new visitors to your website. They provide a friendly greeting then can serve as a guide to the site, helping customers find the information they need much more efficiently.
At any stage in the automated chat, a workflow can be activated to perform a variety of tasks related to the conversation. This helps leads to progress naturally without a reliance on human input, allowing you to quickly process leads.
Learn more about how Flow XO for Chat can meet your business needs
The great thing about chatbots created using Flow XO is that their intelligence is driven by powerful workflows. You can have an infinite number of these flows running in your chat window, meaning your chatbot can be any or all of the above. The choice is yours.
How easy is it to build my own chatbot?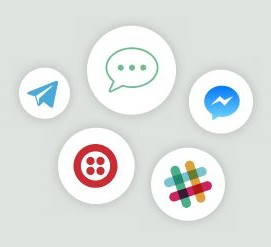 1. Choose your chatbot platform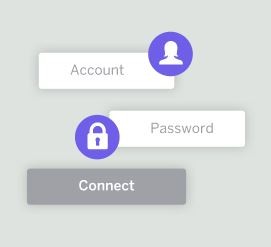 2. Connect your chatbot with your account
3. Add a workflow and chat with your customers
How do chat and workflow work together?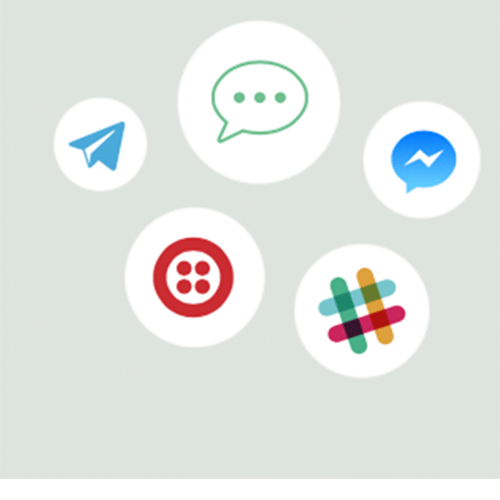 Use Flow XO for Chat to connect to your platforms
Flow XO for Chat is truly cross-platform, allowing you to create bots that interface with Facebook Messenger, Slack, Twilio SMS, Telegram and even via your existing website. You can connect to one of these platforms, or all of them - the choice is yours.
Use Flow XO for Workflow to control your bot
Once you have one or more platforms connected, you then create a back-end workflow with Flow XO for Workflow that controls what happens when a user interacts with your bot. Here, you can listen for particular keywords and then respond to them accordingly - with answers, web links, images or a payment request.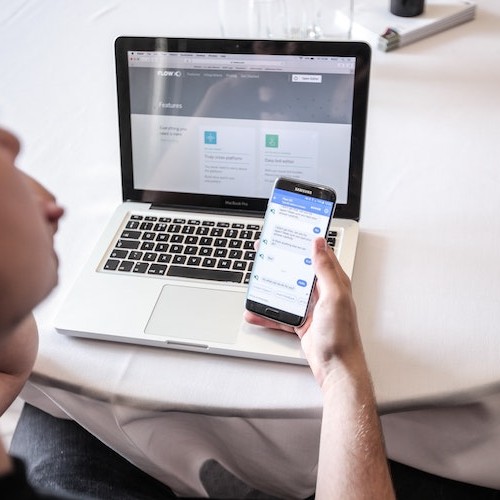 Cross-platform customer engagement
The fantastic thing about Flow XO for Chat is that your customers can engage with you across every platform in a completely seamless way. For example, their first conversation may be via a web bot on your website, but as the dialogue continues they might want to use Facebook Messenger on their mobile device.