Cutting-edge WhatsApp Chatbot Platform
Connect with a wider set of audience and offer a richer customer experience by building your own chatbot for WhatsApp. Flow XO helps businesses create customer-centric chatbots that guide prospects down the sales funnel. Sign up now and start building your custom WhatsApp chatbot for free.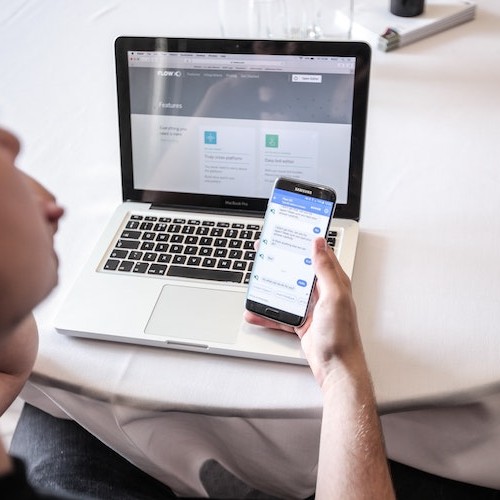 How do Whatsapp chatbots work?
With 2 billion users globally, WhatsApp has quickly become one of the largest social media channels in the world. The platform's distinct ease of use and rich features enable customers to initiate conversations with businesses and receive fast resolutions to their queries.
As a trusted WhatsApp chatbot platform, Flow XO helps businesses create chatbots designed to meet their goals and impact their bottom line. We currently offer clients two ways to build WhatsApp chatbots: via Twilio and 360dialog.
The quickest and simplest method to setting up WhatsApp bots is to use our sandbox account. This lets you test your flows on WhatsApp instantly while you undergo the approval and registration process with 360dialog or Twilio.
Advantages of investing in a Whatsapp chatbot
Regardless of your organization's size or industry, here's how WhatsApp chatbots can accelerate user engagement and support you along the entire customer journey.
Positive impact on your bottom line
Getting the right information to your potential customers at the right time can boost your chances of closing a sale. A chatbot can help guide a user towards the sales funnel by providing fast and detailed product information or pointing them towards suitable offers and discounts.
Round the clock customer support
Our chatbot software for WhatsApp lets you provide 24/7 customer service even on weekends and holidays. Additionally, a chatbot can respond to thousands of enquiries a day without being overworked.
Greater cost savings
A WhatsApp chatbot saves you from the expensive costs of operating call centers and old CRM systems.
Flow XO lets you build cutting-edge chatbots with zero coding skills required. Effortlessly integrate apps and leverage an infinite number of workflows depending on how you want to interact with your target users.
Through our WhatsApp Actions integration, businesses can now access WhatsApp features more quickly and efficiently. Sign up now to build your own WhatsApp chatbot for free.
Build your chatbot for free​
If you would like to experience the endless benefits of chatbots, we would be happy to help you plan and deploy your bot. Sign up with Flow XO and start creating your WhatsApp chatbot for free.
Connect your Flow XO bot to WhatsApp
You don't need to be a coder! With FlowXO it only takes a few steps to connect your bot to WhatsApp.